Registered Charity No.1022738
East of London Group
From the City of London ...

Photo: Ian Britton
... to the shores of Essex
Photo: David Mansell

to the JGSGB East of London (EOL) Group website! This site announces the JGSGB EOL's meetings for those in East London and Essex.
We are part of the Jewish Genealogical Society of Great Britain. The JGSGB EOL holds regular meetings in Gants Hill. Click and see the JGSGB's range of resources and membership benefits at the national website.
Our aim is to help anyone with Jewish ancestry trace his or her family tree!

Shirley
Raymond

David
Nearest tube: Gants Hill, Central Line
Nearest overland railway station: Ilford Station
Beehive Lane: First Thamesway 462
Gants Hill: First Capital 123, 179, 296
East Thames 129, 150
Docklands Buses 167
Stagecoach 396
Proposed Dates of Future Meetings
Please check with us beforehand in case these dates change
11th August 2003
13th October 2003
8th December 2003
Keep up-to-date with our events by joining our mailing list!
This mailing list is for JGSGB EOL announcements only. For a Jewish genealogy discussion group and other JGSGB membership benefits, go to:
Becoming a Member
The JGSGB, a secular society, has groups nationwide to help anyone find out about their Jewish ancestry. To find out how to join the JGSGB and discover your Jewish family's history, click on the logo below!
Do You Have Space for Our Poster on a Noticeboard?
Do you know a notice board where a poster for the JGSGB EOL will be welcome? Posters for downloading below!
Click here to download an A4 poster
Click here to download A5 poster
These posters are in Adobe Portable Document Format (PDF). Click below to download free Adobe® Reader® software to open these files.



JGSGB EOL
Our Next Meeting
Monday
11th August
at 7.45 pm
How Cemeteries Keep
Our Ancestors Alive!
Elliott Porte and Raymond Montanjees will demonstrate ways of discovering precious clues to your family tree in Jewish cemeteries.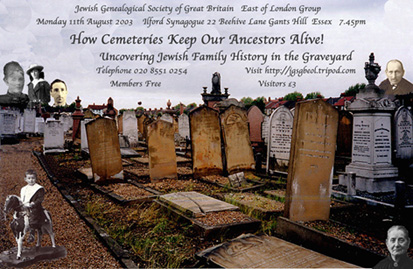 Discover the treasures of the graveyard!
Elliott, a cemetery database compiler, and Raymond, who runs regular tours of East London Jewish cemeteries, will also invite discussion on issues facing genealogists wishing to use burial grounds as a resource. Access to graveyard records and the need to preserve these sites of British heritage will be high on the agenda
Whatever your origins and however little or much you know, we'd love to see you at our meeting and discuss your Jewish family tree!
Ilford Synagogue
22 Beehive Lane
Gants Hill
Essex
Light refreshments served
JGSGB members Free
Visitors £3

Elliott Porte
Raymond Montanjees
Join Elliott and Ray and discover your ancestors beyond the grave!
Historic Jewish cemeteries are a part of British heritage and JGSGB members are actively trying to help record and preserve these sites.
George, librarian of the JGSGB's library in North London, has written on "Researching Jewish Burials" in Issue No 10 October/November 2002 of the Public Record Office family history magazine, Ancestors
In the March and June 2003 editions of the award-winning JGSGB magazine, Shemot, the JGSGB's Judith and Petra highlighted the dilapidated state of some of London's Jewish cemeteries and the
issues
involved for genealogists.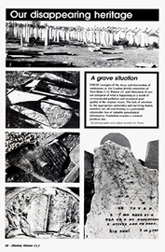 Our October meeting will feature the welcome return of Jewish genealogy speaker Richard Pearlman. Richard set the East of London Group's ball rolling when he gave a fun and fascinating talk at our inaugural meeting.
Bookmark this website for further updates!


See photos of one of our meetings,

at TotallyJewish.com

"We Don't Spell Our Name that Way!"

with guest speaker Sue Fifer
Shirley welcomes

Elliott introduces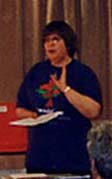 Sue speaks and informs!
Our last meeting was "Breaking Out of Genealogy Groundhog Day", one of our popular "Helping Each Other" workshops. This cooperative meeting proved a winner, giving a host of useful tips and suggesting solutions for some knotty genealogical problems. Queries covered three continents with several people finding possible connections. Those attending could also browse through books and cds covering many aspects of Jewish genealogy. A big thank you to all those who came, saw and contributed to another successful meeting!